Discover more from hot honey musings
a digital grimoire of the moods, musings and prophecies of a conduit— from fashion faves + predictions, trend analysis, coveted beauty products, and lifestyle inspirations. this is me.
Aesthetic-driven Venus continues to settle into intuitive and home-bodied Cancer until June 5 for a cozy time. Venus transiting into a new sign means we can sense and feel subtle shifts in our relationships, style, values, beauty routines, artistic expressions, finances, and pleasures. This watery energy heightens our intuition, can expose suppressed emotions, enhance our dreams and pivot our focus to domestic matters. Take your relationships to the next level by initiating childhood-themed conversations. Be a safe space and allow others to show up for you in that way, too. You can't resist the perfect segue to going on a much-needed meal delivery sabbatical. Give your stove some attention by cooking meals for yourself and your chosen family. Desires to move or launch home renovation projects will spark an interest in home decor, interior design, D.I.Y projects, reupholstering, thrifting or selling pre-loved clothes. Put your Pinterest obsession to work and create your dream home moodboard! Meditate on your needs, wants and everything in between. In the meantime, adorn your corners, shelves or walls with relics, curios and souvenirs that make your home feel like its own sanctuary— including family photos.
The urge of wanting to live in your sweats a la early covid days is real. The compromise is cozy, but make it fashion! Lookout for launches in loungewear, children's clothing, home decor, and maternity wear. As for the beat, this is your moment to shine like the moon with a luminous glow. Kevyn Aucoin's Glass Glow Face in Crystal Clear or Pixie Dreams gives you that sultry glossy highlight you need!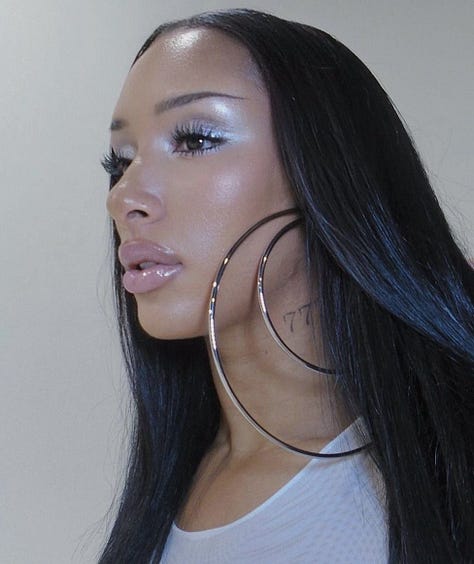 Photo inspiration ( Left to Right): Naomi Sharon, Unknown, Tamara Williams, Lynn Ban, Marina Dean Francis, Jean Paul Gaultier, Aoifie, Unknown, Christopher John Rogers
Channel your inner 90's Naomi and opt for cool toned makeup looks, even give the white shadow trend a try. OVO's first lady, Naomi Sharon, is definitely on the moodboard. Experiment with soft blue tones, baby pinks, glittery metallics in your makeup and in your wardrobe. I know we love dripping in gold, but silver is bae currently, chrome nails included! If you've been debating about changing your nail shape to oval, almond or stiletto, take this as a sign to switch it up! Need some design inspo? Reference something that brings you comfort or reminds you of home. Research ancient beauty practices and incorporate key ingredients that your ancestors once used. S'ABLE Labs, founded by the finest couple in Hollywood, the Elba's, does this just by making African ingredients like baobab and qasil, staples of their skincare line. Follow your own curiosities that lead you in the path of learning more about your ancestry and lineage. How can you reference the past to inform your own personal style?
---
Looking for a psychic home girl to spill the cosmic tea + hold your spirit down? Look no further and sign up for the Hot Honey Line— the only psychic text hotline to incorporate divination, self care, astrology, love, beauty, and move moves paired with psychic fashion advice.