Discover more from hot honey musings
a digital grimoire of the moods, musings and prophecies of a conduit— from fashion faves + predictions, trend analysis, coveted beauty products, and lifestyle inspirations. this is me.
Trend Watch: Culture Trails
The aftermath of whitewashed Y2K culture demands cultural celebration + reclamation in fashion
Slinky fabrics, denim and logo mania aside, the resurgence of Y2K style has ignited a cultural shift in fashion, which somewhat feels like a juxtaposition of what I recall 2000's culture to be. The premise of Y2K style is whiteness and the very convincing push from white media that pop culture is interchangeable with white culture— despite us always being architects of music, grandeur and everything in between. Millennials especially can attest the late 90's and early 2000's being a pivotal era of influence filled with thriving Black artists, musicians and cultural pioneers. When we turned on our TV there was programming that made us feel seen like a plethora of TV show's challenging the complexities of navigating being Black in America or music videos showcasing our inimitable style. We even had a Brandy Barbie, young Black girls were winning! The exponential growth of hip-hop and R&B trickled down to "pop" culture ( I use that term sparingly) and style being embraced and mass produced by the mainstream, but without *us*.  This era was a turning point as pop culture was upheld to the standards of the White gaze and interest of White America. 
Then, came the cultural obsession with, rich, young ( and White) socialites like the Lindsey Lohans and Hilton sisters, alas the rise of celebrity tabloid culture, reality television . We have always been creating the trends but mainstream media completely whitewashed everything whilst pushing cultural appropriation to a cringy level that was still favored by the masses. Gwen Stefani having her famed Harajuku run, birthing hits like the Isley Brothers sampled "Luxurious", and Christina Aguilera cosplaying as a Latina woman, walked so Rachel Dolezal could run! From the magazine ads, to canceling foundational Black networks and programming ( UPN we miss you!), our faces became more transparent.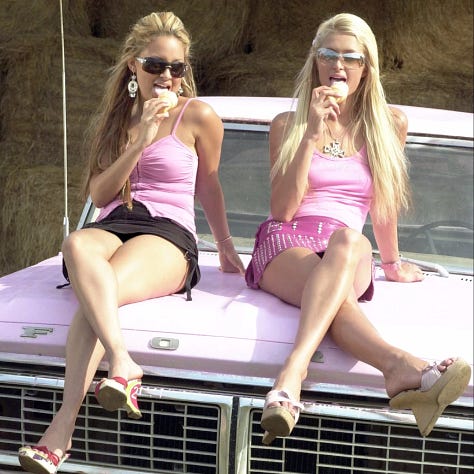 Across the diaspora, we either witnessed or were teased for our cultural differences, whether it was traditional clothing worn or aromatic home-cooked meals brought to lunch. I believe that a number of people raised in traditional backgrounds began to stray away from culturally informed attire as a form or self protection to avoid prejudice, bullying and the unavoidable micro-aggressions. So figure hugging clothing like bedazzled crop tops, lingerie tops, dimple revealing low rise jeans and Herve Leger-esque bodycons entered the chat. 
Side note to Millennials: I feel like we all know someone ( or we are the someone!) who would change clothes and make up their face as soon as they got to school to embrace these "aesthetics".
The blatant exposure of police brutality sparked after the execution of George Floyd in 2020 followed by countless other police brutality cases accompanied by the ongoing conversations of lack of Black representation birthed a new decade of Black rage. The anger and disappointment that we've been bubbling for centuries, erupted bringing Black folks across the diaspora together to use our platforms to challenge the status quo, loudly reclaim our culture, unapologetically express our pride and demand equality across industries.
In the midst of the Kardashian era, the term "Blackfishing" was coined by journalist Wanna Thompson to expose the mediocrity of non-Black women's attempts at appropriating Black beauty aesthetics. This ushered in the reclamation of Black beauty and highlighted popular trends that were created within our communities. In 2011, we witnessed 24 year-old Olivier Rousteing become the first Black (and youngest!) Creative Director at French couture house Balmain, followed by the late Virgil Abloh at Louis Vuitton, Pyer Moss became the first Black designer to present a couture show and Maximilian Davis hired as the creative director at Salvatore Ferragamo. Dapper Dan went from being black-listed to getting his flowers, including countless collaborations— a full circle moment that wouldn't have happened without our voices in fashion. Though the gates are still being guarded by fashion's elite, over the next year especially we will see emerging talent across the globe being pushed to the front. With 2023 being a numerological year 7, there's an underlying theme of self exploration which influences us to take a look at our past to redefine our future. This shows up as thoughtful injections of culture and heritage being showcased in the fashion industry in a way that's authentic because it's created by the inhabitants of said culture, versus the appropriation of it.  
CFDA/Vogue Fashion Fund Grant winners and mother-daughter design duo, Rebecca Henry and Akua Shabaka, birthed House of Aama as an extension of their African spiritual practice with each collection intentionally referencing the past and African mysticism. Our rituals, spiritual practices and medicine have historically been preserved through the art of storytelling. Their latest collection, Aama Tales, references African folklore figure Anansi the Spider as an homage to their "family legacy of migration". Twin jewelry designers L'Enchenteur similarly promotes the power of storytelling through the alchemical process of jewelry-making by creating talismans for artists like Jay-Z, Erykah Badu and Teyanna Taylor. Edvin Thompson, creative director and lead designer at Theophilo captures the essence of his home country Jamaica for his Brooklyn-based brand. Their most recent collection features embellished logo sexy baby tees, Jamaica flag colored fishnet tanks and graffiti mini's that give a signature 90's chainmail effect. The "HOMECOMING" campaign shot by Oliver Hadlee Pearch features a carnival inspired feathered headdress created in collaboration with accessory brand Chrishabana. Paired with an itty bitty snakeskin bikini, the Theophilio girl this season can catwalk right off the runway to play mas! Be on the lookout for other cultural garments being reclaimed and reinterpreted. Surrealist poet and activist Aja Monet recently shared the cover of her upcoming poetry album When The Poems Do What They Do wearing nothing but an orisha crown, primarily used in African rituals for spiritual leaders, similarly to the Cameroonian juju hat worn in my own brand photos.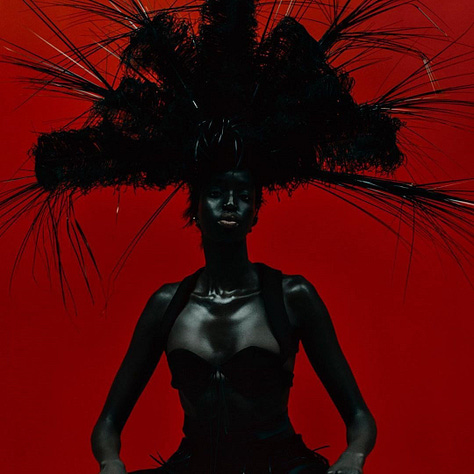 L to R: Maximilian Davis, Aja Monet, L'Enchenteur, me, Theophilio
To the front comes influential creators like Lagos-based multidisciplinary artist and Black is King collaborator, Daniel Obasi, making it their mission to create works "advance the scope of African narrative" through an Afro-futuristic lens. The influence isn't just in the messaging though, it's also in the material, patterns, symbols and techniques historically used. Olivier Rousteing's maximalist approach to "remind the world that it (Egypt) is the birth of humanity, of mathematics, of architecture, and of beauty" is the inspiration of Balmain's Resort 2023 collection. The civilization's ancient spiritual practices are translated through scarab bags, gold serpent embellishments, lapis lazuli toned pieces, bandage mummy-esque gowns, lean and long maxi silhouettes and even a eye of Ra halter bustier. Let's not forget raffia dominating the spring-summer season. The palm tree native to Madagascar, historically used in egungun masquerades within African festivals and parades, is being widely used across the industry. Brandon Blackwood launched a leather, raffia and wicker version of his Nia shoulder bag for his SS23 drop. Back in December Jacquemus quite literally made it rain in raffia for his Spring Summer 2023 " Le Raphia" collection integrating exaggerated and playful raffia hats to become the shade and variations of skirts, bralettes, corsets and coats using the plant. Coveted designer Grace Wales Bonner brings "an Afro-Atlantic spirit to an idea of European luxury" featuring a raffia skirt styled with a raffia polo sweater, cowrie shell adorned jackets and track pants for Wales Bonner's latest collection. It featured pieces from her Adidas partnership which pulls inspiration from the style of 1970'-80's Burkina Faso, West Africa.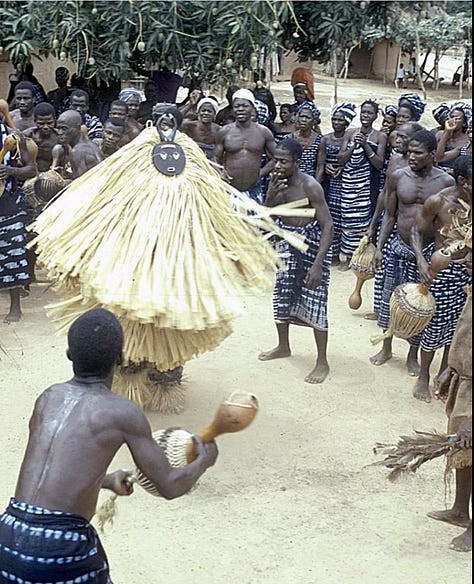 L to R: Egungun parade, Jacquemus, Brandon Blackwood, Wales Bonner, Balmain, Balmain, Daniel Obasi
The future of fashion will start to look like more designers, stylists, photographers and creatives from around the world using fashion to tell the stories of their ancestral practices, beliefs, and rituals. Black American, African, Carribean, Native American, Middle Eastern and Asian designers especially will receive more opportunities and funding. In January, designer Rahul Mishra, who pulls inspiration from the "cosmos", became the first Indian designer to show in Paris Couture Week. Can you imagine a time world where couture and the realm of runway fashion isn't restricted to dressmaking but expands to hand embellished masquerades, ceremonial wear and other garbs like saris, carnival costumes, or hijabs? More initiatives and programs should be launched to support global fashion weeks such as Lagos Fashion Week and other key cities around the globe cultivating their own fashion communities. My crystal ball tells me that we are heading in the direction of fashion gatekeepers finally lending their platforms and resources to global communities without trying to tamper its authenticity by whitewashing it. Designers of color will have the platform to proudly and loudly intertwine the traditions, values and style of their culture and it will show through their mission and their work; our stories have always been told through the clothes that we wear. This can trickle down to outsourcing by crowdfunding to raise their own capital without the weight of catering to investors' expectations or needs.