Discover more from hot honey musings
a digital grimoire of the moods, musings and prophecies of a conduit— from fashion faves + predictions, trend analysis, coveted beauty products, and lifestyle inspirations. this is me.
The Ancestral Language of Black Style
Rekindling the spiritual significance of style staples across the diaspora
Growing up as a young, Black girl, there's always been this inner knowing that my physical presence is the first introduction to the world; a consciousness inherited from my ancestors. Before any words roll off my tongue, my melanated skin broadcasts our history. As we know, that history is many things, both muddy and triumphant. Though the world is now beginning to comprehend that the Black experience is vast and certainly not a monolith, we all have carried the weight of our ancestors. Those gut-wrenching false narratives of us being unkept and untamed spread throughout society have been retold and reworded throughout generations, branded into our identity, resentfully so. It still feels contradictory, being that the majority of trends like street style, ornate nails, bold layered jewels trace back to Black culture. 
Yet still, these faux fables place a great deal of responsibility upon us across the Diaspora and every chance we get we feel indebted to "show up and show out", and we know that when we leave our safe spaces we carry our entire race with us. Whether we accept that way or sweep it under the rug, there will always be someone combing through our image to generalize us. Our sensitivities towards comments on our outer appearance and cultural appropriation is merely political. Though burdensome, we do it well because style is an inherent language we speak. We've remained connected to the divine by casting spells through dressing with intention, even subconsciously. Along the way we may have forgotten why we do it, but it always circles back to our spiritual practices. I wrote this as an ode to celebrate foundational fashion trends within Black culture and remind us of it's spiritual beginnings.
Sunday's Best
When a large population of us were stripped from our homes in the motherland, we were also stripped of our spiritual beliefs and original style. Often we wore nothing at all except for sacred adornment using shells, animal bones, crystals. Other times it was animal skin, rafia made from palm plants, kente, mud cloth and other textiles that varied by region. Clothing became an original language— through fashion we distinguished ourselves by tribe, religion, social status, marital status and so much more. As a product of the trans-Atlantic slave trade, Christianity became the default religion. While we were worked to the bone 6 days a week, we were constrained to worn down dresses, pants, and leather shoes, often either too big or too small to fit. 
A few hours on Sunday's were the only glimpse of "freedom" our enslaved ancestors had, driving us to express our pride and beauty through fashion. It was the only day of the week we were able to dress ourselves as we congregated with our loved ones and worship Spirit— often in custom-made pieces designed for ourselves and families, particularly for that one day. Sundays then became a sacred day for honoring the divine and ourselves, as we remained obstructed through the mental and physical shackles of white supremacy. We petitioned God through stylish expressions, prayers of hope and healing for our families and communities. Those rituals of pride stuck with us through the abolishment of slavery, as we built our own safe spaces through places of worship. 
The Black church has since become the epicenter of style and grace. That moment of combing through our closet to put together the perfect look to wear to Sunday service is our first prayer of the day.  There is a belief that God is sanctified and housed in the place of worship, therefore our appearance is our introduction to the divine. There's a sacred responsibility to look "sharp" and represent our best selves through stylish libations to the Lord, by way of tailored suits, embellished ensembles, colorful two pieces and flamboyant hats to cover our crowns. Even if we opt for Sunday Brunch instead of the house of worship, we're definitely going to do it in style.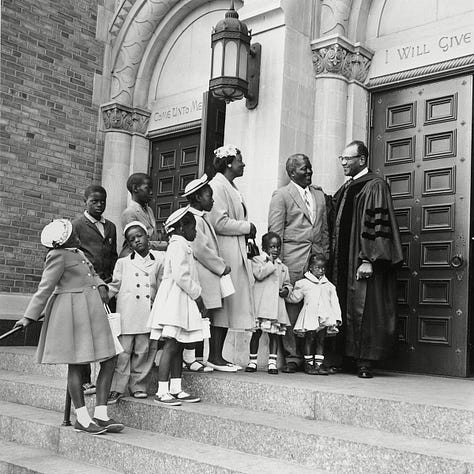 Louis Boyd, 41, wife, Dorothy, 38, and their eight children stand on the steps of Concord Baptist Church of Christ with pastor Rev. Dr. Gardner C. Taylor, right, in Brooklyn after attending Easter Services, April 22, 1962,
During the church service at a Black church in Heard County, Georgia, April 1941 by Jack Delano, source unknown, Pinterest, Easter Sunday in Harlem 1951, artist unknown
It's Pure: All White Everything
In Ifa, the supreme deity Obatala is believed to be the creator and molder of all heads; so it is he who represents human consciousness itself. In the creation story he created humans with his own hands using clay molds and it was Olorun who breathed life into the. Another name for Obatala is "king of the white cloth" ruling consciousness, light + maintaining a clear head. Across the diaspora, white is the absence of all color considered to help us embody cleanliness + purity and cleansing. It's a staple during spiritual rituals in Hoodoo, Voodun, Santeria, Ifa and other ATR'S. After a cleansing we air dry and wear our whites, while doing spiritual work and attending bembes or spiritual ceremonies we also wear all white. If you are apart of any ATR then you know you always gotta keep some whites in your closet! 
What's most intriguing to me is how we've maintained the sacredness of white by making it a celebratory dress code. If there's one thing *us* folks like, it's an all white affair, honey! Growing up I always remember seeing celebrities dripped in their best all white fits attending Diddy's famed all white party, all white is a popular "grown and sexy" amongst Black culture.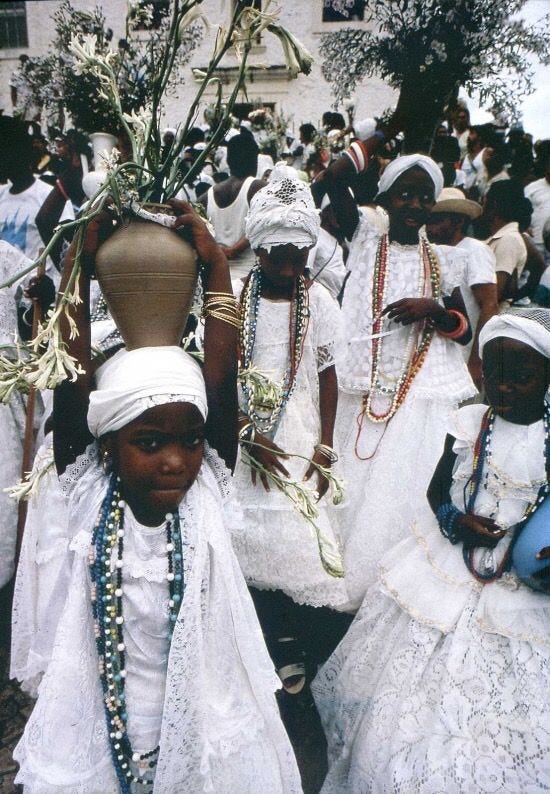 Olukun festival in Brazil, Diddy + kids @ his all white party, Pinterest, Candoble festival in Brazil
While writing this, I instantly thought about the "no white after Labor Day rule" and how it never really applied to *us*. Upon my research I learned that the rule was created by affluent white folks because they'd spend the summer season on vacation, where they'd wear more brightly colored clothing. Once that last vacay is over they would pack away those clothes for the summer season next year. So each time you say fuck that stupid ass rule, you're defeating white supremacy + honoring your ancestors (LOL)
Crown + Glory
It is a foundational belief in African traditional religions that our ori, our head and higher consciousness, must be protected. Our ori is our first guide, our higher self and through the crown chakra we are able to pull down divinely channeled wisdom + guidance. Our ori supports our emotional world and how we process experiences and relationships with others, connects us to the wisdom of our past lives, and provides direct access to our individual destiny. When our ori is exposed, like a sponge we are soaking in the energies surrounding us. This makes us susceptible to spiritual attacks or absorbing bad juju which can spark physical ailments such as headaches, having low energy, unprovoked sadness or even depression. Headwraps, geles, or dukas are also symbols of status, wealth and lineage. Unfortunately, colonialism watered down the spiritual significance. As the mammy persona a la Aunt Jemima grew, these once empowering motifs became a poster for manual labor, rather spiritual empowerment and protection.
Natural elements like clay, beading, wax, shells were all used to enhance the beauty of our natural coils in the motherland. Once slavery was abolished, we yearned to express ourselves through our hair, creatively connecting with different methods to embellish our tresses— beads, shells, hair pins, and jewels alike. Because Black women appeared to be "too free" or "too attractive" (aka being the baddies we've always been) Tignon Laws were put into place. These Tignon laws banned us from wearing natural hair and when we did wrap our hair we were not allowed to adorn our head wraps. With the Crown Act only being passed just in 2019 to protect us from being discriminated against by hair, it's a testament to how political of a statement our hair actually is.
Church folk believed that big hats grasped the attention of God, so it became a belief that the bigger and more elaborate the hat the easier it is to be recognized by God, and in turn have our prayers swiftly answered. I look at baseball caps, hijabs, fitteds, headwraps, hoodies and even wigs as a means of protecting our ori. It helps us maintain our connection to Spirit by protecting our head from external energies and forces.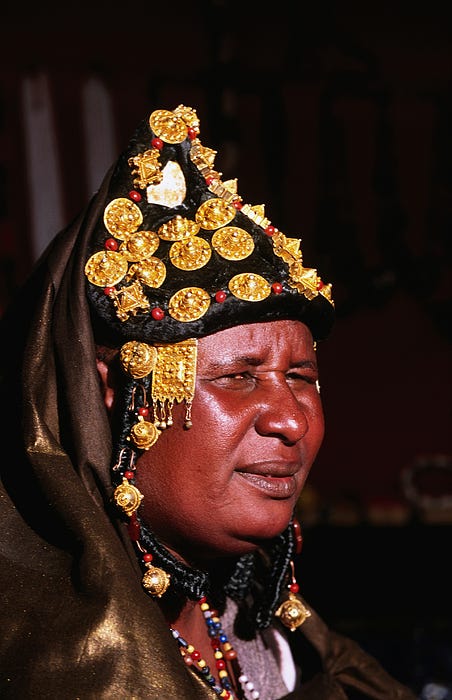 Songhai woman in festival ( Wikipedia), Yoruba women wearing oso eke in 1890's, Free Women of Color with their Children and Servants, oil painting by Agostino Brunias, Dominica, c. 1764–1796, source unknown, The Gift of Cowrie by Latranei Gaibole, Nancy Carpenter courtesy of Michael Cunningham, photograph by Thomas E. Askew, source unknown, VOGUE UK shot by Tim Walker
The patterns in which our hair grows, defying gravity to kiss the cosmos makes the relationships with our crown, hair and all, one that's holy and deeply personal. When you take a look at Rastafarian culture, growing your hair to form locks is a spiritual practice. They use the Bible ( Numbers 6:5) to support their belief, which states:
All the days of the vow of his separation there shall no razor come upon his head: until the days be fulfilled, in the which he separateth himself unto the LORD, he shall be holy, and shall let the locks of the hair of his head grow.
This is also why you see Rastafarians across the diaspora wear rastacaps in public, to protect their ori, just as those who practice Islamic faith wear a hijab or khimar.
Next time you throw on your cap our get your wig laid, set a little mental reminder that this is you maintaining your connection to self by protecting your energy.
Sacred Adornment: Dripped Down
Sacred adornment has always been its own language and an expression of storytelling. Without even having a conversation with someone, their jewelry can tell you about their lineage, marital status, spiritual beliefs, community, upbringing and so much more. When you look across the diaspora, beadwork and sacred talismans are interwoven in the DNA. Jewelry makers hold a significant role in the community just as drummers, priests/priestesses do. When you join a spiritual house or Ilé you typically receive elekes after going through a series of private rituals and rites. To be clear, we're not talking about beads that are just purchased from Etsy. Typically they're handmade because there are special prayers + invocations recited while doing the beadwork and the colors typically coordinate with the deities; though different spiritual lineages have their own spiritual representation of the colors and patterns used.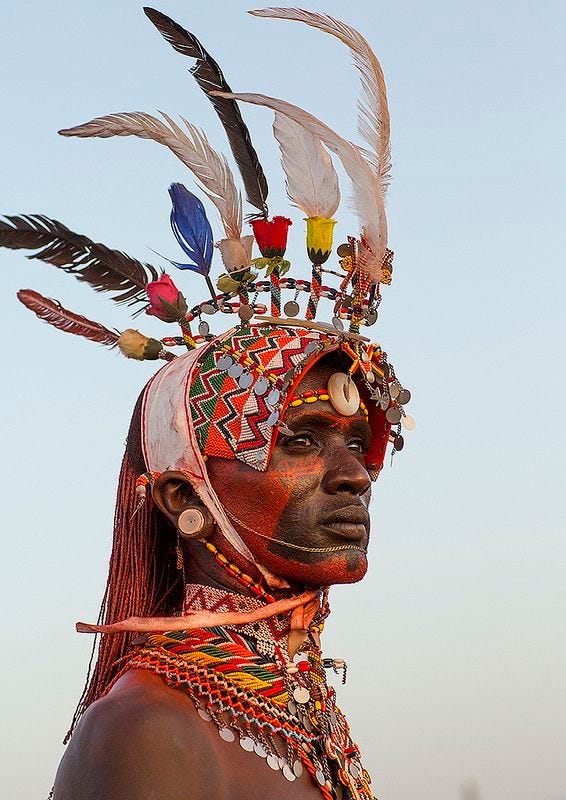 The materials used also have their own spiritual interpretations, mystical associations and healing properties. For instance, gold has always embodied "rich bitch energy". It's traditionally a symbol of wealth, abundance, royalty, and of course privilege. 
Kings, queens and community leaders would drip in gold and centuries later in the African American community a rite of passage is a baby receiving their first piece of gold jewelry— a nameplate bracelet or necklace, gold hoops, etc. It symbolizes being blessed and having a connection to Source. And we know the price of gold only continues to rise so having access to gold jewelry is a blessing in itself!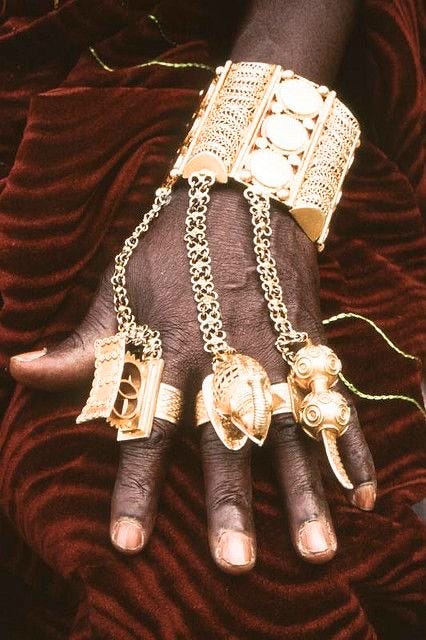 Pinterest, Akan woman from Ghana, unknown, Gucci Mane, Pharrell, Slick Rick, Erykah Badu
At one point in time, copper was one of the most sought after metals, but it's definitely a material that's slept on because it produces electricity. As a conductor of energy, copper can be worn to maintain balance in the body, clear and cleanse the chakras, as well as ward off illness; especially joint pain, inflammation and infection. Children + priestesses of Oshun adorn themselves with copper bracelets to embody her energy and call in favor from what was once her favorite metal. ( Gold also eventually became associated with Oshun). Amongst the African diaspora, you'll see that copper is mostly celebrated amongst those who are spiritually tapped in or "woo-woo" hence the copper wired and crystal jewels. 
The afrohemian
Investing our money in jewelry was never ignorant, it's a means of maintaining our sovereignty; a reminder that we are kings and queens in a society who's taken leaps to diminish our power. They're talismans that keep us connected to our ancestors. I mean, have you really made if you don't have a Jesus piece or an cross? And yes, it also shows the world that abundance and wealth is and has always been our birthright!